Bratty Worlds
---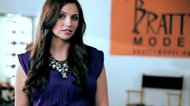 EPISODE 8




Runway Turns: Full Turn


International Supermodel Natasha Chalenko shows you how to do the most advanced Runway Turn: the FULL MODEL TURN.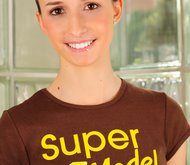 Super Model T-Shirt
Move over Gisele, a new Super Model is in town! Wearing your Super Model t-shirt will definitely make you stand out of the crowd!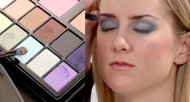 EPISODE 18




Creative Makeup


Learn how you can achieve more exciting and creative looks by adding some color to your eye makeup.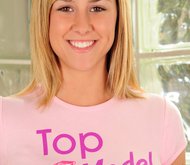 Top Model T-Shirt
Looking pretty in pink, wear your Top Model t-shirt to announce to the world that you have moved up in the fashion world!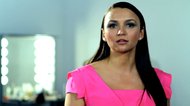 EPISODE 2




Model's Stance: Arms and Head Position


Uncover the secret of the model-perfect posture and notice an immediate improvement in how you look and feel about yourself.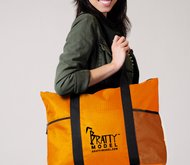 Model Zip Tote - Orange
For every Bratty Model on the go! Our stylish, slick and super-roomy Model Zip Tote fits all your daily essentials.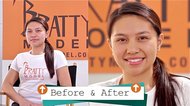 EPISODE 14




5-minute Mineral Makeup: Medium to Dark Complexion


With the help of our Mineral Makeup Kit learn how to do fast, easy, beautiful every day makeup in just under just 5 minutes. Too good to be true? See for yourself!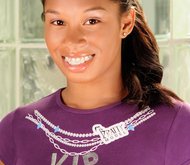 VIP Model T-Shirt
Have you ever wondered how would it feel to be a Royalty? Wonder no more! Now you are a royalty of the fashion world.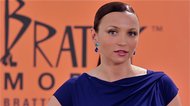 EPISODE 15




Teen Makeup: Natural Makeup


Fresh and natural TEEN makeup tutorial. Great for modeling auditions, castings, agencies go-sees or simply for when you want to look flawless no matter what you do!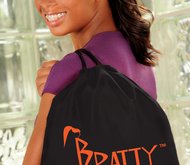 Backpack - BLACK
Be the center of attention with this show-stopping Bratty Model signature logo backpack with drawstrings in super-chic black color with orange logo!
Kaitlyn Tapp debuts at New York Fashion Week!
Bratty Model's client Kaitlyn Tapp started her New York Fashion week with Ivana Helsinki fashion show. The soft chirps of crickets, birds, and running water filled the showroom at Chelsea's Studio 59 as lights dimmed to unveil a brief film featuring the Spring/ Summer 2014 collection of Ivana Helsinki. The film, shot in Madison County, Iowa showed models wandering across bridges and beautiful valleys of flowers and tall grass. Paola Suhonen, the mastermind behind Ivana Helsinki, the only Finnish label featured in New York Fashion Week, stated that the film and the collection were inspired by the 1995 movie, The Bridges of Madison County, as well as her own explorations of the cornfields in rural Iowa. Then, lights flashed on, and ethereal models in romantic and country-inspired sundresses began to float down the runway. The models wore dark purple and black lipstick, giving the collection an edge, and hair was worn in tight side braids that wrapped around long ponytails. Noteworthy accessories included sheer tights featuring neon outlines of butterflies, cherry red biker gloves, and an unusual beaded neck wrap. The collection showcased a wide variety of dresses, some of which were mid-length and Gatsby-esque while others were very short and featured bold polka dots. Many dresses were airy and delicate, with floral or butterfly prints that gave them a distinctly luxurious, bohemian flavor. Suhonen's inspirations clearly went further than Madison County, drawing from the Old West, the British Mod Movement, nature-loving hippies, and the funky prints of the seventies. Source: nyunews.com
Bratty Model's client is gearing up for New York Fashion Week!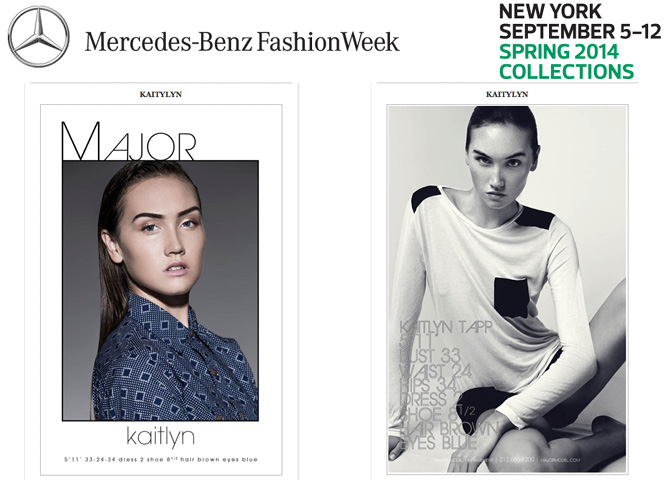 Bratty Models's client Kaitlyn Tapp is in high demand for New York Fashion Week, busy with castings, fittings and rehearsals. She was included in MAJOR agency show package on MODELS.COM, a place in this prestigious line-up is usually reserved only to the top runway models of the agency. Way to go, Kaitlyn!
Kaitlyn is in New York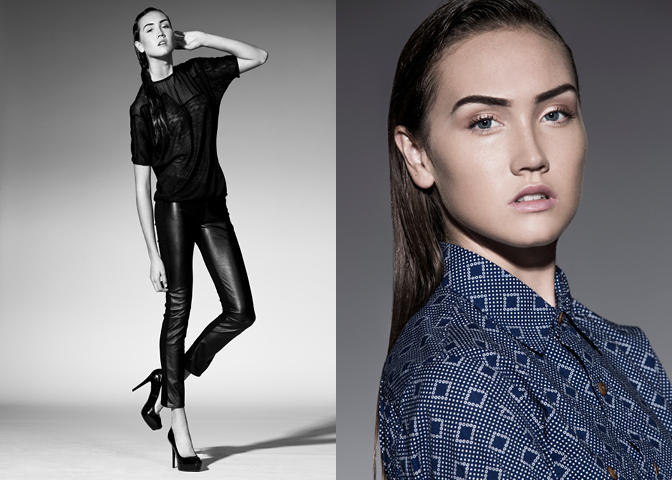 Bratty Model's client Kaitlyn Tapp arrived to New York just a few days ago to start her contact with prestigious MAJOR MODELS and she has been booked non-stop! Here, Kaitlyn looks phenomenal in photos by Fernando Forero.
Kaitlyn Tapp goes to New York for her agency "go-sees"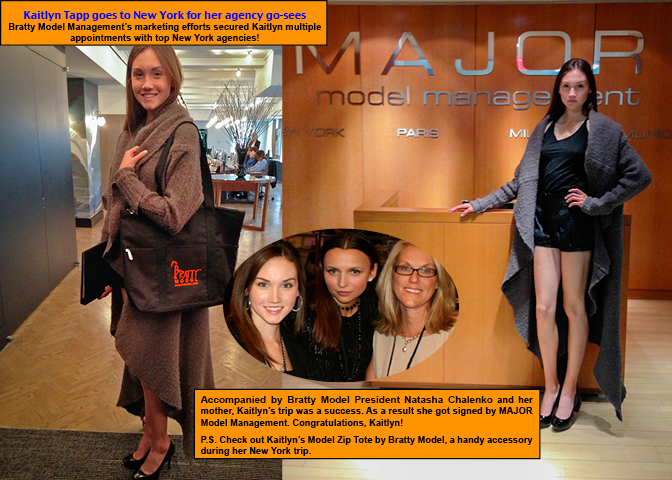 Bratty Model Management's marketing efforts secured Kaitlyn multiple appointments with top New York agencies! Accompanied by Bratty Model President Natasha Chalenko and her mother, Kaitlyn's trip was a success. As a result she got signed by MAJOR Model Management. Congratulations, Kaitlyn! P.S. Check out Kaitlyn's Model Zip Tote by Bratty Model, a handy accessory during her New York trip.
Natasha Chalenko is on the cover of 65° Magazine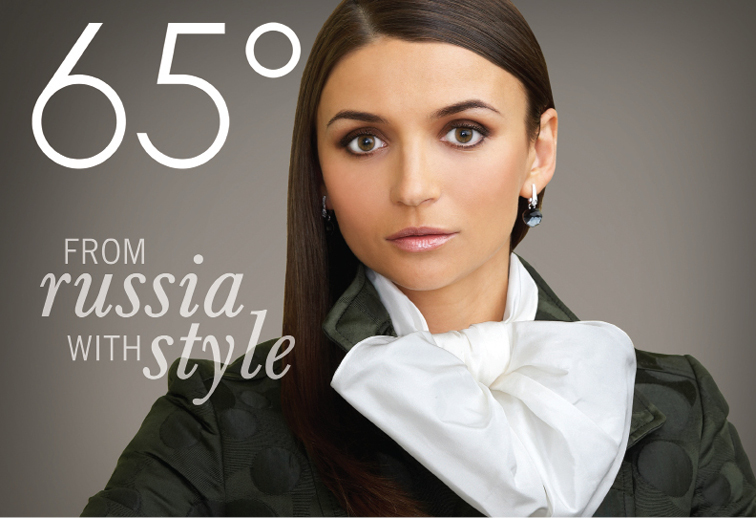 Bratty Model's President Natasha Chalenko graces the cover of 65° Magazine. Source: 65° Magazine