Bratty Model is full service model and talent agency. We are licensed by the State of California, our License Number is TA000234541.
Our agency consists of 2 divisions: Bratty Model (main) and Brave Talent (Athletic and Lifestyle Talent)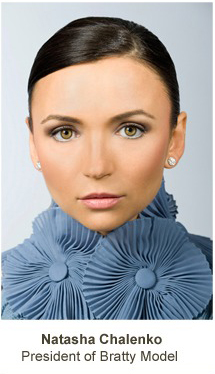 Bratty Model division represents talented kids, teens and adults in San Francisco and Bay Area for Print and Commercials, in Los Angeles for TV and Film and place in New York, Paris, Milan, Munich and Tokyo markets for Fashion.
We manage girls and guys across the United States. We don't require our new clients to relocate or live in SF, LA or NYC to get started; in fact, most of our successful clients come from small towns and cities located in every possible corner of the big country. We do, however, only take on board those who have potential, talent, determination, a supportive family and meet our requirements. Please check out "Become a Model" section for more details.
Brave Talent division is the newest addition to our agency and represents Athletic and Lifestyle models. Our talent appeared in print and commercial campaigns for brands and retailers such as Garmin, Lumo Run, Gander Mountain, Zumo USA amongst others.
Our President Natasha Chalenko has extensive industry experience, both in front and behind the camera. Starting as a high-fashion model at an age of 17, Ms. Chalenko was one of the first successful international models from her native Ukraine, with numerous fashion shows, magazine and catalogues to her credits. Coming from a very conservative family, where education was the #1 priority, Ms. Chalenko successfully graduated from the prestigious Donetsk National Medical University. After getting her medical doctor's diploma, Natasha decided to stay in the modeling and talent industry but on the management and development side. Over the years she has helped a lot of kids, teenagers and their families to get started in the industry in a safe, secure and educated way, and enjoy results in the most efficient manner, customized for every individual.
What makes Bratty Model stand out in the industry is our unique approach to representing, managing, marketing and developing talent. Our website consists of 3 sections – Agency, Learn and Bratty Mall™.
In the Agency part we list our clients profiles, both models and actors. These get updated daily with the most recent photos and resume details. Each profile is highly interactive with cover page, portfolio and polaroids for models, and headshot page, portfolio and resume for actors. Management section allows the industry professionals who work with Bratty Model and look for a particular model or talent, have the most complete and up-to-date info to make their decision. This GIVES OUR CLIENTS ADVANTAGE IN THE INDUSTRY AND HIGHLY COMPETITIVE EGDE!
And we don't stop there in helping our clients! Our Learn section consists of a library of high quality video lessons which deliver the skills that any teenager would like to learn, such as visual poise, great posture, graceful Model's walk and much-much more. We created our LEARN section to help our beginner and well-established clients to gain and maintain the skills necessary to be successful, especially if they live in the remote areas without an easy access to quality industry education. As long as they have a computer, they are good to go! All video lessons are EXCLUSIVE and FREE TO ALL OF OUR CLIENTS.
Lastly, there is Bratty Mall™, which is simply for fun and open to the general public. Bratty Mall™ gives access to the exclusive Bratty Model fan merchandise and other useful model basics such as teen-friendly mineral make-up and skincare, carefully selected and sourced. Important to know: Bratty Mall™ is an independent entity of Bratty Model agency, it is separately operated by its own e-commerce provider (not by Bratty Model).
Thanks to Bratty Model's unique, results-oriented management approach and well-established connections with the best industry professionals we are able to guide our clients careers keeping their best interests at heart.