Starting a new relationship is hard enough, but not having anything to talk about with your new boyfriend can be both awkward and frustrating. Having good chemistry with someone starts with the ability to carry on a conversation. It is important to know what your boyfriend likes to do in his free time. Whether he enjoys playing sports, music or spending time with his family and friends, knowing his likes and dislikes are great conversation starters. Make sure you pay attention to what he is saying and follow up with him at the end of the day to see how everything went. It is also important to tell him your likes and dislikes so you can both find out what you have in common and start conversations up about those topics.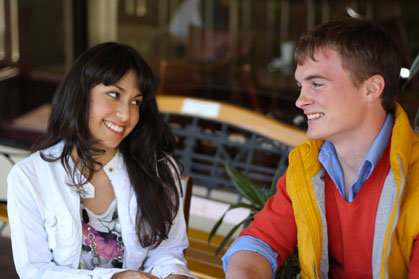 Making time to talk is also vital to successfully communicate with each other. Agree on a time that works for the both of you to talk without any interruptions or distractions. Girls tend to want to talk more often and express their feelings directly, where as boys tend to keep things bottled in and want to keep the conversations simple. Do not let this discourage you. Be as open as you can without seeming controlling or overbearing. It is important not to scare him away from you when you ask him to talk. Boys will feel anxious that they did something wrong if you are constantly telling them that you need to talk, so try and tell him everything you are feeling at one time instead of consistently telling him you need to talk.
In the first stages of your new relationship it is important not to spend too much time together or on the phone for too long. If you are having trouble creating conversations, being together all the time or on the phone too long could lead to awkward "silent moments" that are uncomfortable for both of you. When you spend some time apart it gives you the opportunity to talk about all the things you have done in that span and the conversations can grow from there. When the two of you are together, go out and try an activity that you both have not done before to change things up a bit so it will allow you to talk about your experience after it ends. Communication is the basis for every relationshtip in life and in order to have a successful and happy one you must be open and share how you feel.